Teresa Blake

Miami Vice Characters

Born

December 12, 1963, Tuscaloosa, Alabama

Active

1986-1998

Spouse(s)/Children

Mike McGuire (1994-98, divorced)
Jeffery Addicott (1999-present), two children
Teresa Blake
made her acting debut as Donna, an "overnight visitor" on
James "Sonny" Crockett
's boat in the episode "
Forgive Us Our Debts
", and as FBI Agent Lasota in the episode "
Line of Fire
".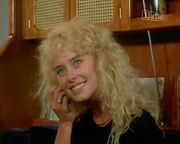 Blake made her movie debut in an uncredited role in Revenge of the Nerds II: Nerds In Paradise (with Ed Lauter and Jack Gilpin), other movie roles include Licence to Kill, Payback, and her most recent movie appearance, What I Have Written. Her other TV appearances include B. L. Stryker (episode with Aharon Ipale and Harold Bergman) and an eight year tenure on the soap opera All My Children as Gloria Marsh, who has become her most well known role.
Personal Life
Edit
Blake was married to Mike McGuire, member of the country music band Shenandoah from 1994 until their 1998 divorce, later remarrying to Jeffrey Addicott in 1999, they have two children; Greyson Lee and Blake Leslie.
Ad blocker interference detected!
Wikia is a free-to-use site that makes money from advertising. We have a modified experience for viewers using ad blockers

Wikia is not accessible if you've made further modifications. Remove the custom ad blocker rule(s) and the page will load as expected.