Miami Vice Theme

Featured in Episode

Artist(s)

Top Chart Position (Hot 100)

1 (November 9, 1985, one week)

Year Released

1985

Album

Writer(s)

Jan Hammer

RIAA Certification

NONE

Sequence song appears

Opening sequence

and closing credits

(

Brother's Keeper

) Crockett chasing Tubbs across Miami

(

A Bullet for Crockett

) Flashback to above scene

Previous Song

Next Song

"Miami Vice Theme", also known as "The Original Miami Vice Theme" in some releases and simply as "Miami Vice" in its extended version, is a song performed by Jan Hammer, recorded on the first Miami Vice soundtrack in 1985. The song first appeared over the opening credits in the Miami Vice pilot episode, "Brother's Keeper", and was subsequently used as the title music for every episode of the series, even those scored by Tim Truman after Jan Hammer left the show as composer. The track also appeared within the episodes "Brother's Keeper" and "A Bullet for Crockett".
Along with "Crockett's Theme", it is one of the most famous pieces of music Jan Hammer composed for the series.
The version of the theme used in the opening credits of the first four episodes of the show was incorrectly mixed and is missing the distinctive synthesised guitar hook. Curiously, this was not corrected on recent DVD releases of the show, despite being acknowledged as an error by producers.
The "Miami Vice Theme" was the last TV theme and the last instrumental to reach #1 on the Billboard Hot 100 until "Harlem Shake" topped the charts in March, 2013. The first Miami Vice soundtrack album spent 11 weeks at #1 on the Billboard Top 200 Albums chart, a record for a TV soundtrack that still stands. It was also the biggest selling TV soundtrack until High School Musical broke that record in 2006.
The version of the song that was released as a single and reached #1 on the chart was considerably longer than that which was featured in the show. Miami Vice's opening credits essentially used the last minute of the single, plus a distinctive percussive introduction that was not present in the single version at all.
The theme was used as the opening for G. Gordon Liddy's radio show in the early 1990s.
The video for the song featured scenes from "The Prodigal Son", "Golden Triangle (Part I)", and "The Maze", along with Jan Hammer's instrumental performances and appearance as a bad guy. He would appear in cameo roles in the episodes "One Way Ticket" and "Like a Hurricane", both times as a wedding musician.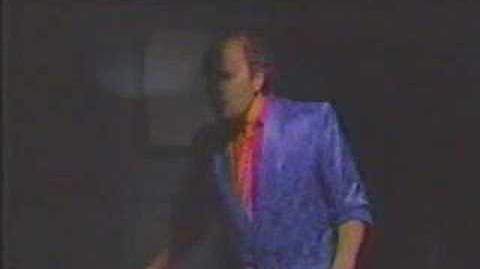 Ad blocker interference detected!
Wikia is a free-to-use site that makes money from advertising. We have a modified experience for viewers using ad blockers

Wikia is not accessible if you've made further modifications. Remove the custom ad blocker rule(s) and the page will load as expected.