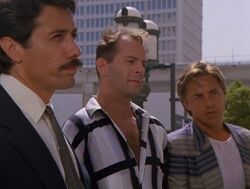 This is a list of guest stars that appeared on Miami Vice over the course of its five seasons. The series' large repertoire of guest performers was noted at the time of production, but the show has become truly famous since for the large number of guest actors/actresses, unheard of at the time of their casting, who have subsequently gone on to become some of the biggest names in Hollywood.
Please note that this is not an exhaustive list, but rather focusses on guest stars who are well known from other works and/or careers.
Ad blocker interference detected!
Wikia is a free-to-use site that makes money from advertising. We have a modified experience for viewers using ad blockers

Wikia is not accessible if you've made further modifications. Remove the custom ad blocker rule(s) and the page will load as expected.