This article is about the Phil Collins song. For the Nonpoint song, see In The Air Tonight (Nonpoint Song).
In The Air Tonight

Featured in Episode

Artist(s)

Top Chart Position (Hot 100)

19 (August 15, 1981, two weeks)

Year Released

1981

Album

Face Value

Writer(s)

Phil Collins

RIAA Certification

Gold

Sequence song appears

(Brother's Keeper) Crockett and Tubbs drive through Miami night
(A Bullet for Crockett) Opening with Crockett and Tubbs going to drug deal

Previous Song(s)

Next Song(s)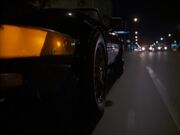 "In The Air Tonight" is a song performed by Phil Collins, recorded on his album Face Value in 1981. The song appeared in the Miami Vice episodes "Brother's Keeper" and "A Bullet for Crockett"; the scene in "Brother's Keeper" during which the song appears is considered one of the most iconic and influential in television history, and marks one of the very first times a commercial pop/rock song was featured in a television program in this manner.
Indicative of the song's impact, a cover version by Nonpoint was later used in Michael Mann's film adaptation of Miami Vice.
"In the Air Tonight" is one of ten songs that were reused in more than one episode of Miami Vice.
Despite being just one of over 300 songs used on the show, "In The Air Tonight" is often considered one of the defining pieces of music from the Miami Vice series and the two are closely related to this day.
The song's instrumental sections have been sampled by current acts L.L. Cool J and Lil' Kim.
There is an urban legend associated with the song (with numerous variations), which says the lyrics are based on a tragic event Collins witnessed, usually a drowning (as in the song's lyrics), in which a man could have helped the victim, but did not do so. In more macabre versions, the onlooker was in fact responsible and intentionally drowned the victim, rather than simply being a bystander. The story says that many years later Collins saw the man in the crowd at a concert (or alternatively invited him to the show) and sings the song to him, often with a spotlight pointed at him. Afterward, the man is arrested for his crime or, in some versions, is wracked with guilt and has a heart attack or commits suicide. Despite the fact that Collins has repeatedly debunked the legend, saying he came up with 99% of the song's lyrics "on the spot", many people still believe the myth to be true.
Ad blocker interference detected!
Wikia is a free-to-use site that makes money from advertising. We have a modified experience for viewers using ad blockers

Wikia is not accessible if you've made further modifications. Remove the custom ad blocker rule(s) and the page will load as expected.