Caroline Crockett (born 1953), later Caroline Ballard, was the first wife of Metro-Dade Detective James "Sonny" Crockett, and they had one son, Billy, born around 1978. They tried to make their marriage work despite Crockett's profession as an undercover vice detective, "living the life", away from home maintaining his "cover", and the normal strain of being a policeman's wife took its' toll on their relationship and Caroline filed for divorce in 1984. Crockett went ballistic when she told him she was moving to Atlanta for a job offer and taking Billy with her, Crockett was determined NOT to let that happen, as he wanted to be a father to Billy, but after a hit man hired by the drug lord Calderone nearly killed all of them, Crockett agreed and Caroline and Billy moved away.
In 1987, Crockett broke his three year exile from Caroline and Billy's lives and went to see his family after he shot a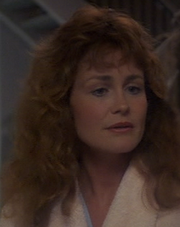 child
who was only four years older than Billy, and found Caroline was engaged to a businessman,
Bob Ballard
, and Billy felt distant from his father. After they worked out their problems, Caroline then insisted that Bob be allowed to adopt Billy after their marriage, and again Crockett went ballistic and insisted
no one
was adopting Billy, that he would make a better effort to be a good father. Later in 1987, Billy met his father's new bride,
Caitlin Davies
, and he was in his father's wedding. In 1989, Crockett visited Caroline and Billy again because she called to say Billy was "acting up" in school, getting into fights, etc., and wanted his father to see him. It turned out Caroline and Bob were expecting a brother for Billy, but Billy was having trouble accepting his new sibling, and Crockett explained to his son that having a brother was a real treat (and Crockett told Billy about his brothers and how nice it was to have them around). Nothing more was known about Caroline after that, what her second son's name is, etc. Caroline and Billy make a cameo in the
series finale
as photographs in Crockett's locker as he arms up for final showdown of his career. In Brother's Keeper, Caroline mentions her brother who sells Porsches in the city. He is the only family member she refers to in the series
.