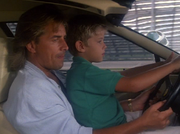 Billy Crockett (born 1978) is the son of Metro-Dade Detective James "Sonny" Crockett and Caroline Crockett-Ballard. Both parents are devoted to him, especially his father, who would buy him police cars for his birthday (though his police duties made it difficult to be there for his childhood milestones and events). In 1984, his parents began divorce proceedings, and when Caroline wanted to take Billy to Atlanta where she had gotten a new job, Crockett wouldn't hear of it, until a hitman nearly killed his entire family, then Crockett realized the dangers of his job and allowed Caroline to take Billy with him.
In 1987 Crockett shot a 13 year old child who drew a gun on him, and in his grief and anger at himself he realized how he had been an absent father to Billy for the three years he was not there for his son, and drove up to see him, but Billy was understandably distant from his father, since he had not been around. Later Crockett discovered Caroline was engaged to businessman Bob Ballard, who wanted to adopt Billy, and once again Crockett went ballistic, refusing to even consider that request. Later in the year Billy met his father's fiancee Caitlin Davies, then was in their wedding. In 1989 Caroline called Crockett up to see Billy as he was acting up in school, getting into fights, skipping class, etc. Crockett found Caroline was very pregnant with a brother for Billy, but he was angry about the new arrival, and that neither his mother nor Bob talked about the possibility of a sibling. Billy and his father talked about the baby, and Crockett shared his stories about growing up with his brothers, and how important it is to spend time and be close friends with his brother (and to not be so rough on his mom and Bob). Later in 1989, Crockett and Billy went fishing together with a pole bought by Castillo, who asks Crockett to "give Billy a hug for me". Billy continues to live in Atlanta with his mom, step-father Bob, and his brother. Billy and his mother make a quick cameo as photographs in Crockett's locker as he arms up for the climactic showdown in the series finale.
Ad blocker interference detected!
Wikia is a free-to-use site that makes money from advertising. We have a modified experience for viewers using ad blockers

Wikia is not accessible if you've made further modifications. Remove the custom ad blocker rule(s) and the page will load as expected.