Baba O'Riley

Featured in Episode

Artist(s)

Top Chart Position (Hot 100)

Did Not Chart

Year Released

1971

Album

Who's Next

Writer(s)

Pete Townshend

RIAA Certification

NONE

Sequence song appears

Opening with Skates skating at beach

Previous Song

Next Song

"Baba O'Riley" is a song performed by The Who, recorded on the album Who's Next in 1971. The song appeared in the Miami Vice episode "Out Where the Buses Don't Run".
A live version of the song is used on the show, as opposed to the original studio recording. This is the only time this occurs in Miami Vice.
Roger Daltrey is the lead singer for all but the middle portion of the song, where Pete Townshend sings the line "Don't cry, don't raise your eye, it's only teenage wasteland". Due to this line and the chorus that follows, many people mistake the title of this song as "Teenage Wasteland".
The song is used as the theme to CSI:NY starring Robert Joy (which ran from 2004-2013 with Joy beginning his run in 2005), on which Edward James Olmos guest starred in the seventh season episode "Sangre por Sangre" in 2010. Another song on the Who's Next album, "We Don't Get Fooled Again", was the theme to the Miami-based crime drama, CSI:Miami, that ran from 2002-2012.
Performers
Edit
Roger Daltrey - lead vocal
Pete Townshend - backup vocal, guitar, synthesizer, organ
Keith Moon - drums
John Entwistle - bass guitar
Dave Arbus - violin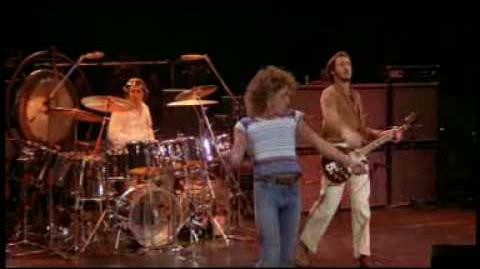 Ad blocker interference detected!
Wikia is a free-to-use site that makes money from advertising. We have a modified experience for viewers using ad blockers

Wikia is not accessible if you've made further modifications. Remove the custom ad blocker rule(s) and the page will load as expected.