Angelina Madeira
Talk

0
2,316pages on
this wiki

Angelina Madeira (1959-1986) is the daughter of drug lord Esteban Calderone, born in Medellin, Colombia. She received her education in the Sacred Heart Convent in Bogota, the University of San Paulo, and Georgetown. She and her half-brother, Orlando, received dolphin pins as children that they wear, to identify themselves as Calderone's children. All through her childhood and into early adulthood, Angelina never knew the true dealings of her father, either by choice or that he never told his daughter.
St. Andrews Island
Edit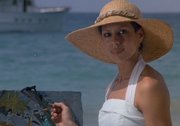 Calderone and Angelina relocated after his Miami getaway in St. Andrews Island on the Bahamas, and Angelina took a job as a teacher in the school there. She was identified in surveillance photos and located by Metro-Dade Detective Ricardo "Rico" Tubbs on a remote part of the island, indulging in her favorite hobby, painting (only giving her works to her friends). Tubbs and his partner, James "Sonny" Crockett, were looking for Calderone after the death of their Lieutenant, Lou Rodriguez, at the hands of a hitman hired by Calderone, and Tubbs mistakenly thought that Angelina was Calderone's girlfriend. Later Tubbs manages to convince Angelina (by returning her watch dropped after her painting session ended) to have dinner, but after Calderone discovered the cops' true identities, Tubbs goes to see Angelina again to find out where Calderone is, and they realize their mutual attraction, and make love. Only afterwards does Tubbs discover the truth about Angelina, and they get together at a masquerade party during the island's Carnivale-type celebration.
Calderone's Death
Edit
While Tubbs and Angelina dance and party, Calderone's men take Crockett at gunpoint to his home, and nearly take Tubbs as well but he and Angelina escape, only then does Tubbs tell Angelina the truth about her father's dealings, and how Calderone had his brother Rafael killed. Angelina and Tubbs go to Calderone's home to find several armed men holding Crockett, and when Tubbs challenges the men to let his partner go, they attempt to kill the cops, but Crockett gets a machine gun and kills Calderone despite Angelina's frenzied pleas not to, then Tubbs reveals to her that he is a cop, and Angelina, still reeling from her father's death, leaves without saying good-bye, and the cops head back to Miami.
Angelina's Return and Baby Rico
Edit
Nearly two years later, Orlando Calderone has taken over his late father's drug empire and is ruthlessly expanding its' reach, and avenging his father's death, offering a $1 million bounty for Ricardo Tubbs, dead or alive. This turn of events directly impacts a deal Crockett and Tubbs have with a drug dealer named Mendez, who were tipped off by a middleman named Vega to the bounty, and nearly kill the Vice cops until a sniper (Angelina's bodyguard) picks off one of the shooters with a laser-sighted rifle from a nearby rooftop. Later Tubbs is taken at gunpoint to a home where Angelina is waiting, and shows him a surprise, their love child, a son named Ricardo, born after their rendezvous on St. Andrews Island. Angelina offers Tubbs a large sum of money to get out of Miami, because she knows Orlando will kill him and she does not want her baby's father to die. Tubbs refuses, and with his feelings for Angelina returned, instead keeps his new family in a safe house, which is blown when Tubbs inadverently reveals the location to a rogue DEA agent who is also an informant for Orlando, and he kidnaps both his sister and his nephew.
Angelina's Death
Edit
Orlando has his sister tied up in a car, rigged to explode either by remote control or by motion inside the car. Before he arms the device, he has his nephew taken from the car and whisked away to the main Calderone house, before leaving he spits on his sister and yanks the dolphin chain off of her neck. Tubbs, desperate to save his family, agrees to meet with Orlando's goons near the car (and has Crockett along as backup), but Angelina, feeling Tubbs would be killed regardless, starts moving around in the car, breaks from her binds and hits the horn, causing the explosion that kills her. Tubbs then finds and shoots the DEA agent that caused Angelina's death, killing him when the car he and his partner are in falls into a lake. During Angelina's and Ricardo Jr.'s funeral, (Tubbs was never told his son was still alive), a wreath of mourning flowers arrives, with a note to Tubbs containing Angelina's dolphin pin and a message from Orlando, "I'll be back".