Per news reports, there is a reboot of Miami Vice in the works with Vin Diesel heading the production. Click here for more on the potential reboot.
Articles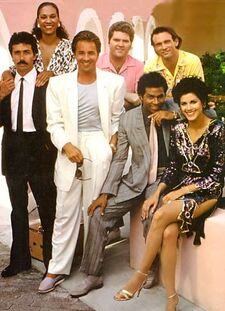 You can help improve the Miami Vice Wiki by adding to these pages, uploading new images, or creating some of the wiki's needed pages. Please keep additions relevant, and please try to use good English!
To write a new article, just enter the article title in the box below.
News
Miami Vice removed from streaming on Netflix (15 July 2015)
Miami Vice begins airing on El Rey Network (1 January 2015)
Miami Vice begins airing on Esquire TV (4 December 2013)
All character pages updated with portrait-sized, DVD-capture images (October 2011)
Miami Vice Wiki reaches over 2000 articles (March 2011)
Miami Vice begins airing on Centric Channel (November 2009)
Updated mainpage (2 August 2009)
Completed cataloging of 300+ songs (22 July 2009)
Miami Vice removed from Sleuth Channel schedule (6 January 2009)
Started Wiki (11 December 2008)
Not sure where to start?